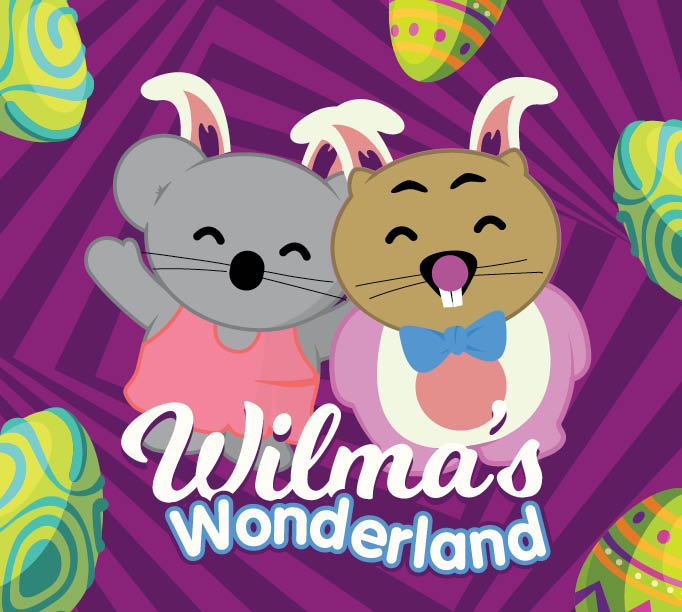 Explore Wilma's Wonderland!
11 April, 2019-29 April, 2019
Discover Wilma's Wonderland this Easter for your chance to WIN in over $6,000 worth of prizes! Simply download the app from the App Store or Google Play Store to win prizes daily. A massive $300 gift card to be won each day you play!

From Thursday April 11th, explore the centre and play the interactive, augmented reality Egg Hunt and Egg Toss games in the Wilma's Wonderland app. Simply select the Egg Hunt to embark on a virtual Easter Egg Hunt through the centre, finding hidden markers which will activate your chocolate prize! The Egg Hunt can be played once a day, every day until the 29th of April. To play The Egg Toss game, play and enter your score for your chance to WIN a major prize each day. The highest scoring player at the end of each day will win a major prize, the Egg Toss can be played as many times as you like!

How to play The Egg Hunt:
1. Download the FREE Wilma's Wonderland app and click the Egg Hunt game.
2. Point your phone camera at the markers hidden around the centre, you'll find them where our characters are featured! Scan the markers to find all four characters.
Note: only some markers are active in the centre, so scan all of them to find the active markers!
4. To redeem your Egg Hunt prize, simply visit Bakers Delight show the completed game screen to the shop attendant, scan the QR code and claim your prize.

How to Play Egg Toss:
1. Download the FREE Wilma's Wonderland app and click the Egg Toss game.
2. Point your phone camera at Carla the Koala who is located in centre! Scan the marker and play Egg Toss.
3. Turn left and right to find the characters. Toss eggs at the characters to score points. Catch them before they catch you!
4. Play for the highest daily score to WIN a $300 shopping card!
5. Daily prize winners simply visit the location listed and show the winners email notification in store to claim their prize.

The app can be downloaded on the App Store and Google Play store from Thursday 11th April.
Terms and Conditions
For support and assistance using the App visit our
Support Page